THE FOUNDING OF JOSE ORIHUELA, ATTORNEY AT LAW
Before I went to law school, I worked at a port in South Houston. The job taught me a lot about the nature of the work in this area of Texas, but it took me a while to realize that my legal education could benefit my fellow maritime and industrial workers.
Once I got my law degree, I excelled in the area of traffic law but wasn't satisfied with the work itself. I wanted to use my legal knowledge in a way that would be more challenging for me and even more beneficial for my clients. Before long, I found my calling in the field of personal injury.
From the moment I started representing victims of injuries, I knew I had made the right choice. Suddenly, I was able to help not only those who had been hurt in common accidents like car wrecks and slip and falls, but also those whom I had recently called my coworkers at the docks.
Before long, I decided to strike out on my own and establish Jose Orihuela, Attorney at Law. By running my own firm, I am able to give each of my clients the individual attention their case deserves and the overall support that I believe they should have during their time of need. Pictured at left is myself and my two legal assistants.
A FIRM FOUNDED ON PRINCIPLES
Since the moment I established my firm, I have been committed to a certain set of principles — principles that I believe are fundamental to providing excellent service to my clients.
First and foremost, my practice revolves around my clients' well-being. To me, this means more than just handling their case professionally. It also means standing up for them when someone tries to take advantage of their situation, making myself available to them when they have questions or concerns, returning their calls promptly, and coming to them when they can't come to me. In short, I strive to do whatever I can to make their situation easier.
I have no tolerance for people who exploit others in a vulnerable position. When I can put a stop to such exploitation, I don't hesitate to do it.
UNBIASED
I have been involved in trials ranging in value from millions to hundreds of dollars. Big or small, I give every case 110% of my effort.
AGGRESSIVE
No matter the injury or case size, I do not let big companies push my clients around. In fact, I am generally the one doing the pushing.
METICULOUS
Sometimes the smallest detail can make a huge difference in the outcome of a case. I dig into the research to ensure nothing is overlooked.
LET'S GET STARTED
If you or a loved one has been hurt because of another party's actions or negligence, please know that I am on your side. But before I can help you, I have to know what's going on. So take that first step. Call my office to set up a free initial consultation. During that conversation, we'll discuss your situation, and I will educate you on your rights on your options.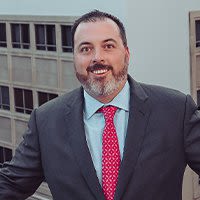 LEARN WHAT I CAN DO FOR YOU
Since I do not charge my clients any fees up front, you have nothing to lose and potentially a lot to gain by giving my office a call. And, since I also believe that great representation begins with teaching clients about the legal process, you can learn a great deal just from choosing to meet with me. Whether you're looking to hire a qualified attorney or simply learn more, I encourage you to reach out today.